Connecting cultures
To let you know a little bit more about the Erasmus+-project, we want to share our expieriences and questions we have talked about.
We had the opportunity to make new friendships with different nationalities, so we had the chance to get to know different cultures. Also we got a more complex insight into the topic LGBT. It was very interesting to work on the different topics for example how religion and society is dealing with homosexuality, but we didn't hav emch free time, because we were working too intensively. For the final discussion we prepared some questions in small groups. About religion, the laws made by society and last but not least about tolenace. The best activity we did in the afternoon was actually to go bowling on Wednesday, where all of the students had a very good time. Starting with funny sport execises, like on monday when all the student became closer to each other.
After all we can say the the whole week was an interesting experience for everyone and a great chance to get in touch with this comlpex topic in the Erasmus+-project.
Especially interesting was the visit of the "HAKI-Group" which has visited our school with three representatives. The "HAKI" organisation visits some schools around about the subject "LGBT" to clear up. There was first a round for getting to know and it rules were put up to the behaviour in the round, as for example respecting the contributions of the students and attentive listening. Because most students have little experience with "LGBT", few contributions of the students came. That's why the group was questioned the "HAKI-Group" which existed of two homosexual ones and a bisexual person. They told about her "coming out", negative experiences with friends and family as well as from many positive experiences.
It was very interesting for most students, because they as already mentioned a little to no people know to the group of the "LGBT" people belong.
But also the rest Erasmus-Week was extremely interesting. With many students the opinion about "LGBT" has changed and they have become opener. Moreover, some informative discussions have arisen. But also the meeting of the different nations we feel for extremely important and, therefore, this project is also so valuable.
A professor talks about intersexuality
 The Erasmus project is an international exchange which introduces students of 5 different nations. This project takes place in Germany, Kiel and it lasts one week with many group works and presentations.
On the third day of our Erasmus project we were lucky enough to meet prof. Dr. Holterhus who is specialised in the field of development and disorders of biological sex. He had prepared a very interesting presentation which helped us to answer some questions that came up while dealing with our main topic sex and gender. He informed us about some genome mutations and how they occur in a medical way. He showed us as well some pictures of real patients that help us to understand about the chromosome defects and the phenotypic effects of different disorders of sex development. We have learned that there are many reasons for intersexuality and also that there are many different appearances. For example, the complete Androgene Insensitivity Syndrome  (cAIS) shows that you can have a male chromosome set but also have a female appearance. Prof. Dr. Holterhus clarifies that the body can't really take the male hormons so a female appearance occurs.
All in all we can say that prof. Dr. Holterhus helped us a lot to understand more about our topic sex and gender. Especially the aspect intersexuality was well presented and shown.
Out of the life of homosexuell persons
At Wednesday we had to choose between two seminars. One was from the organisation Haki and the other one was from a youth and child psychologist D. Feldt and a model booker W. Shurtleff, who told us about their life. We were at the second seminar, so we will tell you about it.
Ms. Feldt prepared a presentation about one of her patients who discovered that he is homosexuell.
She told us about his problems with excepting this fact and his problems in school and his coming out.
Mr. Shurtleff told us about his life as a homosexuell man, how he had his coming out and how his friends and family reacted to that. He also told us that he felt uncomfortable in his working place as a car seller and how he switched to the model business, because he heard that it would be a better environment for homosexuell people. In the end he told us how he met his man in America and how his pretty religious family reacted to his coming out.
Both told us why it is hard to have the coming out in school and that it is way more easy if you have somebody who assists you.
Don't be prejudiced!
Stereotyping is seeing people with certain profiles and describing them with these qualities. For example, boys play with cars and video games,girls play with dolls ; women have to do housework,men have to work in business. Actually, it differs from every country; but people with different qualities,jobs or thoughts from the society have not same rights and even social lives.
Community generally judges minorities, also about sex and gender, they always stereotype and accept them as general attitudes. They forgot that everyone can live freely with choices. Especially, woman has XX genes but man has XY, so just one gene part affects our whole live as an individual. We can't change our sex, but our gender is connected with us. Gender is a social aspect which is generally influenced by our environment, raising style and culture.
In this project, we met with LGBT people, it was a good experience for us and as they told us about their lives. Nearly all of them has some difficulties and worries about their choices while thinking what the others will say. Because people often say: " We accept and respect your choices", but they don't really feel comfortable and as they before about us.
In conclusion, there shouldn't be a strict definition of "normal" in any society. We need to respect differences and tendencies of others, as today gender is influenced by stereotypes and opinions of society.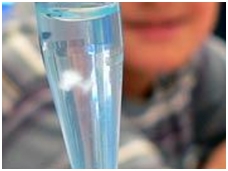 DNA to-go
On Monday the 7th November, 2016 we did a DNA extraction of our own oral mucosa in the chemistry rooms of the Thor-Heyerdahl-Gymnasium in Kiel.
We worked in pairs, with a German student who had done it before in chemistry class, so he/she was the expert for this experiment and with a friend from another country (France, Turkey, Denmark and Spain). It was very interesting.
First we collected the cells of our oral mucosa with chewing and rinse and later we opened the cells and cell nucleus. After we opened the cells, we degraded the proteins and precipitated the DNA. Then our own DNA was visible in the solution! Amazing! Who can say: "I have seen my own DNA"??!!
The DNA is shown as a white flake in the reaction-tube. To make our DNA long-lasting we put it in alcohol carefully to not destroy our flake. Now the process of isolating the DNA is done and you can take it home. If you like you can attach the DNA to make a beautiful necklace as a memory ♥
   It was a great experience taking the place of  the teachers and explain this interesting experiment to the other students!   We all would like to do it again!
KNOWING BAD EXPERIENCES IN THE PAST TO AVOID THEM IN THE FUTURE
Yesterday, we had the pleasure to attend a discussion, where we learned lots of things  about LGBT. Lots of students didn´t know much about this topic, therefore it was very useful.
There were three professionals, who explained us a little bit their stories, to help the development of our minds on this topic.
Firstly they wanted to know about ourselves. We have talked about, where we come from, our name, how old we are and if we are in touch with LGBT people. Later they interviewed us in order to know our personal opinion, for instance, whether LGBT people should keep their feelings secretly or they should come out. They also asked us, if everybody was able to find any job without taking into account their sexual orientation.
On the second step, they answered our doubts about LGBT with their own experiences.
Students were interested in their parents´ reactions, when and how they realised their sexual orientation and finally in case they had lived bad experiences, if they could explain those experiences to us.
To sum up, the majority of students agreed that the discussion was quite interesting, useful and necessary for the whole society, but specially for teenagers, because we will be future adults.
We want to thank the Erasmus project for giving us this great opportunity.
Interesting lectures
We had two lectures, one with people from Haki and one with Dr. Feldt, a therapist, and W. Shurtleff a former model agent.
The people from Haki were all people from the LGBT-community.  We had a workshop with them where we had a discussion about prejudices and how it is to be a LGBT in Germany. We started out with talking about what kind of experiences we all had and if we knew anyone who is a part of the LGBT-community.
It was a great experience to talk with other people about how it is to be LGBT and it helped to understand how to help friends in that community.
At the other lecture we heard about how it is to be homosexual, both from a personal and a medical point of view. Dr. Feldt is beside being a therapist for children and teenagers also a lesbian. W. Shurtleff who is a former model agent is also homosexual. We started out with the medical point of view, we heard about some of Dr. Feldts patients and saw some statistics. Afterwards we heard about their personal experience being homosexual and coming out for your friends and family.
It was very interesting to hear it from different point of views. Especially their stories about coming out were very interesting, because they to some extent were so different, but yet very similar.
Sex and Gender
            During this week we learned many things about "sex and gender" and about different cultures. We also developped our english level.
            The workshop we prefered was the intervention of a gay and a psy´ lesbian. That was really interesting and now we know their own point of view. They are happy in their life. The man said that he is proud of his husband (who lives in America) but he can´t show that because in America it´s like provocation. The psychologist showed us her history and said she had been rejected at the age of 23 by all of her friends when she said she was a lesbian. Now she explains this in different schools and tries to convince young people to tell their parents about their sexuality.
            We also participated at a workshop in groups on different subjects in links with "sex and gender" and we chose "Sports". We have discovered that according to the country, ideas are different and state of mind too and not only in Sports but also in Religion and others. It was nice to see that we don´t share the same opinion.
            As a conclusion,we can say that it was a very good experience  and rewarding week.
Preparing a present for the exchange students
Now the erasmus project is coming to an end. Lets show you what we have done at the first day of the project.                                                                                                                                       After two days of free time the project starts with some cooperatation sport games in the gym. The goal was to show teamwork in different international groups and finish the work together. In the Afternoon we were divided in art, drama and biology groups. The science group worked on a little present for the exchange students. We extracted DNA of every student and made it visible through some chmeical reactions, which are too complicated to explain here. To summarise the whole procedure: They chewed on their cheeks so they got some DNA, then they spit it in some vial and spinned it with like 5000 r/m. After that they put some chemicals into it, made it hot for around 20 minutes, then they poured the small, now visible, DNA into a little glass vial, where it is conserved with alcohol. After all they can use it now as acsessoire and put it on a necklace or something.
 And this was just the first day of the erasmus project…..
"Let's talk about sex (baby)!"
The seminar LGBT with the "HAKI" group was a really nice experience. We talked with 3 members of HAKI, which are part of LGBT. First of all we introduced ourselves, we made clear what LGBT is (Lesbian, Gay, Bisexual, Transgender) and if we had any contact with LGBT before. After that we had a quiz about some really difficult questions for example: "Do you think that there are more members of LGBT in any culture?" it was difficult because of the different languages and the different definitions of each student. Next step was that the teachers had to leave the room because the workshop was only for the students and it is a really personal thing to talk about this topic. The  LGBT guys told us their stories about their experience with the coming out, how the society reacts, discrimination and their family stories. We were always allowed to ask personal questions and they answered it really open minded. That is the reasons why we like it so much! At the end we had a evaluation, everyone could say if their mind changed or if it stays the same. The result is that everbody is really tolerant to LGBT but we said that it was a nice opportunity to talk with them! So we have to say "Thank you very much!" to the HAKI Group.